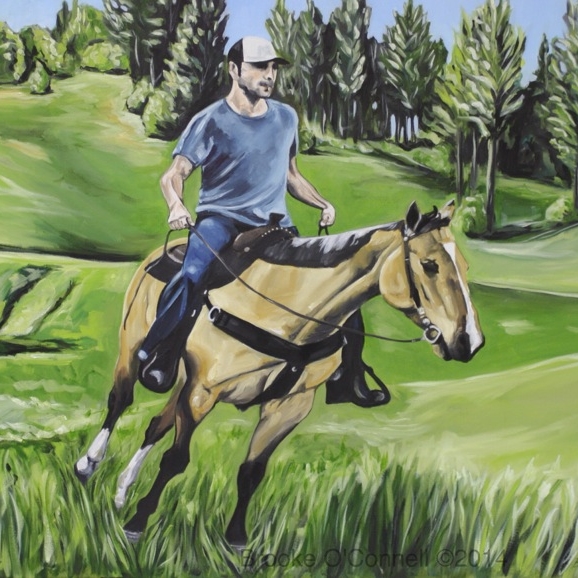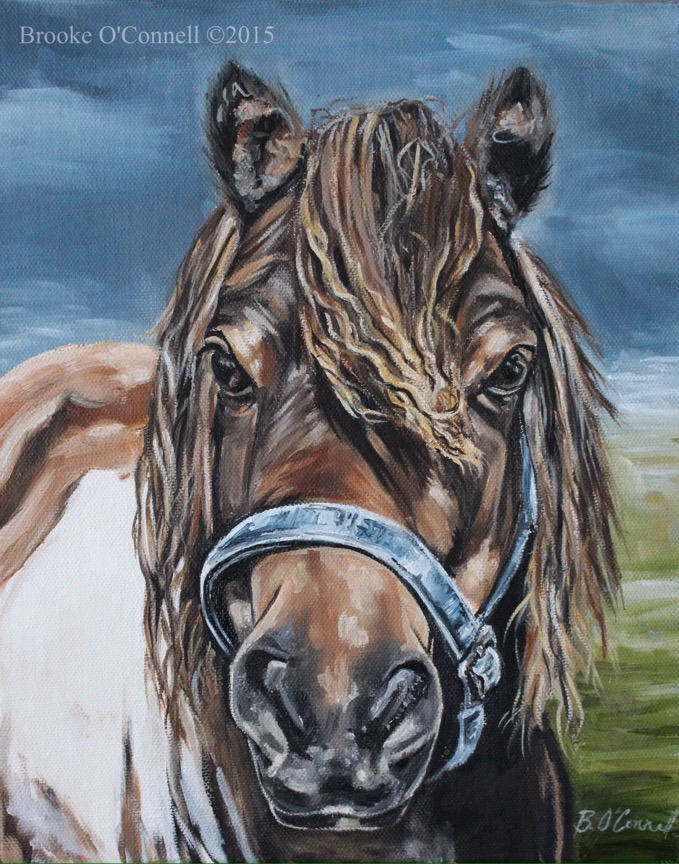 Commissioning a painting is easy and exciting! Custom paintings make wonderful gifts that can be handed down from one generation to the next.
I work from photographs, so the first step is for you to find an image that you love and to get in touch. My aim is to create a painting that is a true representation of your image and to capture the essence of your landscape or horse's personality, in my own personal painting style. Photographs need to be clear and have a high resolution (for digital images). They can be sent to me via email or through the mail.
I am available for photography sessions with you and your horse for an extra fee depending on your location. The fee is based on travel mileage and an hourly rate.
Once I have received the photo, we will discuss composition and background colour choices. As the painting process moves forward, I will send you a couple images to ensure you are happy with the progress of your painting.
Pricing and Timeline
Commission price depends on a few factors: size, materials, complexity, and time. The prices below are for oil paintings done on canvas.

8"x 10" 300$
10"x 12" 325$
14"x 18" 375$
16"x 20" 425$
20"x 24" 475$
22"x 28" 525$
24"x 30" 575$
30"x 36" 625$
36"x 40" 675$
Acrylic works on paper are available @ 175$ for a 6"x6" and 8"x10" for 220$.
If you are commissioning a horse portrait, the best option for smaller paintings is for me to focus on the horse's head. This enables me to really capture the horse's personality and fine details. It is possible for me to do the whole body on a small canvas, although it will be less detailed.
If you are interested in including more than one animal in the painting, an additional fee of 25% will be added to the commission price.
Completing a painting usually takes me 6-8 weeks depending on the size and complexity of the painting. I accept customers on a first come first serve basis and allow time for 3 custom paintings every month. If you are considering purchasing a custom painting as a gift for christmas, please be sure to contact me as soon as possible. October to December are my busiest months.
Payment
Payment is done in two instalments. The first payment must be received before I begin the painting and is non-refundable. The second payment + shipping costs are due once the painting is dry and ready ship. The balance must be paid before I will ship the painting.
Payments can be made with credit card through Paypal. Paypal is the most reputable and secure on-line payment system. You do not need to have an account with Paypal to make a payment.
I also accept cheques, bank transfers, and money orders.
I do my best to make sure that you are 100% satisfied with your painting, and because I share progress images along the way, custom paintings are non-returnable and payments are non-refundable.
Shipping
Shipping costs are based on packaging materials, package size, weight, and shipping location. Packages are sent via UPS and include tracking and insurance. Shipping costs are calculated once the painting has dried and has been packaged (although I will give you an estimate). Once I have consulted with UPS for the shipping cost, you will receive a bill for the 2nd payment instalment + the shipping cost. Paintings will be shipped once payment has been received.
Please be aware that some countries charge brokerage fees or taxes through customs, which are your responsibility.
If by chance your painting were to arrived damaged, I would ask that you contact me within 7 days so that proper steps can be taken to contact UPS and rectify the problem.
Terms and Conditions
I own all copyrights to my paintings. Any finished work, including commissioned work may appear in my own printed advertising, website, and on any of my social media platforms. Paintings may not be resold or reproduced without my written consent. You may however share images of your new painting on your own social media platforms as long as my name is credited.

I hope this gives you a bit more info. Please feel free to ask me any questions, I'd love to create a wonderful painting for you!
Please take a look at my testimonials page for reviews of my work.

Thanks, Brooke